Dynamics 365 Business Central (the new Dynamics NAV) is the all-in-one business management solution that is rapid to implement and easy to use in order to evolve your business. It is a powerful tool that enables small and medium-sized enterprises to manage and connect sales, purchases, operations, accounting and stock.
Connect your business
Manage financial data, automate, protect and develop your supply chain.
Make more conscious decisions
Optimise operations, complete projects by respecting deadlines and budget, use the power of Business Intelligence.
Start and grow easily
Tailored according to your needs and for your business, ready to grow together.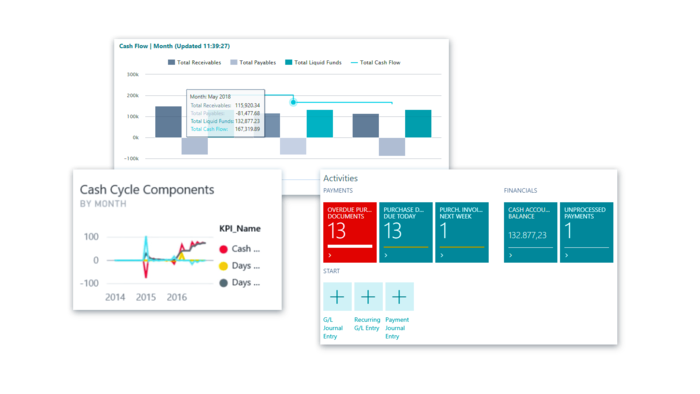 Financial data management
Conscious decisions
Connect data through accounting, sales, purchasing, inventory and customer interactions in order to obtain an end-to-end view of your company. Create real-time financial performance charts with Power BI integrated dashboards.
Financial closing and data reporting
Simplify customer and supplier accountancy and automatically reconcile accounts for financial closing. Create compliant data reports quickly and accurately.
Precise forecasts
Refine financial forecasts by analysing multi-dimensional data. Customise reports with perfectly integrated Microsoft Excel.
An automated supply chain
Constantly updated inventory levels
Predict when and what to replenish thanks to integrated intelligence functions and purchase only what you need.
Reduced supply issues
Keep the right amount of stock by automatically calculating levels, delivery times and reorder points. Suggest replacement products when required items are out of stock.
Goodbye to waste
Receive alerts to pay suppliers in order to take advantage of discounts or avoid penalties for delays. Set up approval workflows to prevent unnecessary or fraudulent purchases.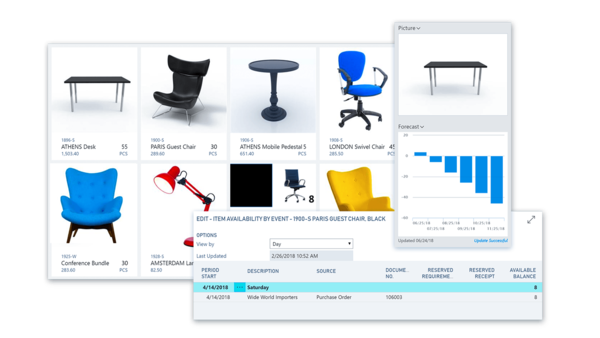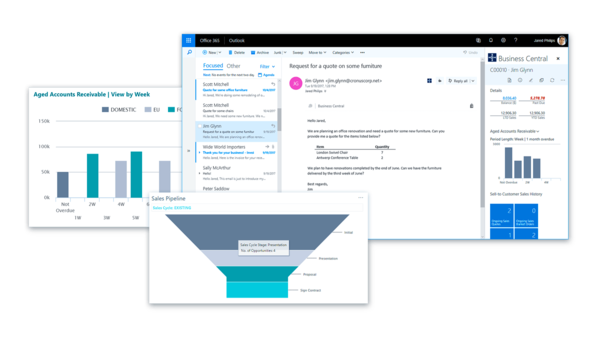 Improved customer service and sales
Value at every touchpoint
Prioritise sales leads based on potential profit. Track all customer interactions and obtain indications on the best upsell, cross-sell and renewal opportunities during the sales cycle.
Increased sales productivity
Accelerate the Quote-To-Cash process. Respond quicker to sales enquiries, manage assistance requests and process payments: all directly from Outlook.
An extraordinary service
Thanks to the general overview of the assistance activities, workloads and skills of your people to effectively assign resources and speed up case resolution.
Fulfilled deadlines and budgets
Budgets respected
Create, manage and monitor customer projects using the timesheets with advanced costing and reporting features. Develop, modify and control budgets to ensure project profitability.
Planning precision
Manage resource levels by planning capacity and sales. Analyse customer invoicing with respect to the planned costs in orders and offers.
Project progress analysis
Make effective decisions using real-time information on project status, profitability and resource use metrics.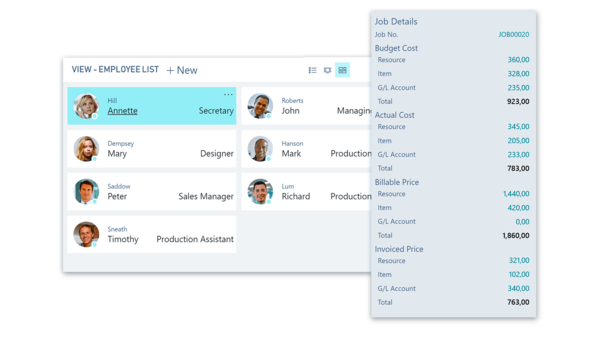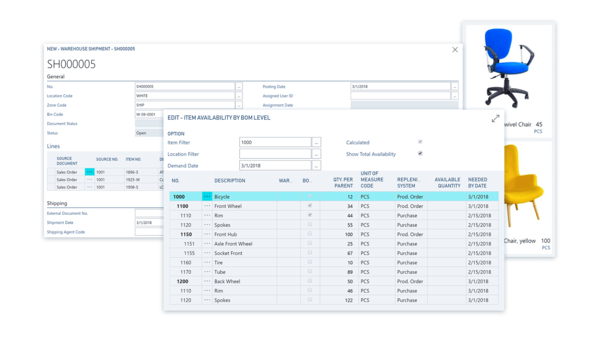 Use forecasts efficiently
Predict sales and stock to automatically generate production plans and create supplier orders.
Warehouse management
Use the holistic view of the inventory to efficiently issue orders. Monitor every transaction and movement of items and organise the warehouse based on storage unit size and warehouse layout.
Optimise output levels
Calculate production capacity and resources to improve production plans and meet customer requests.
Data protection and GDPR compliance
Respect customer privacy
Comply with the General Data Protection Regulation (GDPR) using the incorporated privacy-by-design and privacy-by-default methodologies. Manage access permissions to personal data at multiple levels and use audit trails to ensure security and responsibility.
Manage, store and transmit data safely
Move and store personal data freely on your systems, protecting them from unauthorised access with automatic encryption of Microsoft data centres.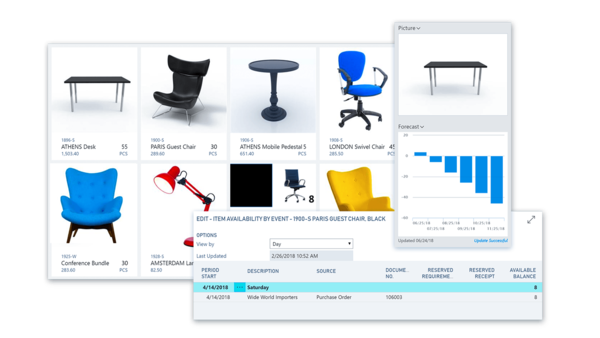 It adapts to specific sector requests, adapting to the ever-increasing needs of efficiency and functionality of companies. Rapid implementation, guaranteed high performance, fully customisable.
Reliability of Microsoft
Chosen by 5,000+
companies in Italy
Integration with Office 365 and Teams
Easy navigation between data collected by Dynamics 365 BC and the tools offered by Office (Outlook, Microsoft Booking or Excel)
Customisable Dashboards
Each user his/her preference: based on the role and information to be handled, it is possible to set your own dashboard to obtain maximum efficiency from the tool
Customisable processes and workflows
Business Central offers an ad hoc platform to create process automatisms. This feature is very useful for automating processes including notifications, approvals and related to the main flows (active/passive cycle, etc.).
Multidevice, accessible everywhere
Same powerful features on iOS, Android and Windows. Identical and safety experience on desktop, laptop and mobile.
Scalable to cloud
The Cloud enables you to an access "wherever", you can fully use Dynamics Business Central from any place and device. One cost per license, maintenance fee, hardware and storage. Everything on the web and available and perfectly scalable, in fact, you will decide how many users to use and how large the Cloud environment will have to be.
SaaS
Software as a Service
Access to the cloud-based software of a vendor
Users do not install applications on their local devices
The applications are found on a remote cloud network that is accessed via web or API
Users store and analyse data, as well as collaborate on projects via the app
PaaS
Platform as a Service
Users are provided with a cloud environment where they can develop, manage and distribute applications
Users can use a suite of preset tools to develop, customise and test their applications
The environment provides storage and other processing resources
IaaS
Infrastructure as a Service
A vendor provides users with access to calculation resources, for example, server, storage and network connection
Organisations use their platforms and applications within a service provider's infrastructure
On-Premise
At the customer site
Installation is carried out directly at the customer site
Do you still have doubts about upgrading to BUSINESS CENTRAL?
Read our F.A.Q.
You are already a NAV user and are worried about switching costs?
If you have already paid for BREP, the license costs are converted during the upgrade to Dynamics 365 Business Central. It is only necessary to consider the cost of implementation, training and support and we at Euris Dynamics have customised implementation packages for every business.
Your system is heavily customised and you need to maintain your customisations after the upgrade?
We suggest using the Extensions, a Business Central feature that enables you to convert the customisations specific to your business in a "smart" way. Euris Dynamics has conversion tools that use the Extension function and strip the customised code from the source code, which saves you time and money in the long run as upgrades to future versions will be simple and low cost.
Do you think that the upgrade is too risky?
All the developments completed by Euris Dynamics follow the Microsoft Sure Step methodology and are driven in a test and UAT environment before go-live, ensuring that the upgrade runs smoothly for business continuity.
The upgrade is too inconvenient for users. What is their real advantage?
Business Central is provided with a new user interface, but has been designed to help users accelerate their productivity and browse the application more easily, especially compared to a years-old legacy system with little interactivity and ability to interface with external systems. We involve end users early on in the project to understand their needs and provide adequate training so that, when they go-live, they have already seen, suggested changes and tested the system. Business Central is also fully usable from all devices (smartphone, tablet, etc).
You don't see any benefits from the upgrade?
Microsoft Dynamics 365 Business Central is the most modern and intelligent ERP solution Microsoft has ever released, with biannual upgrades instead of the annual versions we were used to.
Business Central integrates with other Microsoft products, including Office 365, Dynamics 365, SharePoint and Microsoft Power Platform, in addition to integrated intelligent features. Furthermore, it complies with the new regulations such as GDPR and is already prepared for compliance with the "Making Tax Digital" already in use in countries such as the United Kingdom.
YOUR CHALLENGE, OUR PASSION AND PROFESSIONALISM